There are a number of different marketplaces that allows you to buy finished designs. Many of them sells themes that are cheap and that anyone can buy. They will not be exclusive to your website. Other marketplaces sells more expensive themes that are only sold ones. If you buy it then it is exclusively yours.
Buying an exclusive theme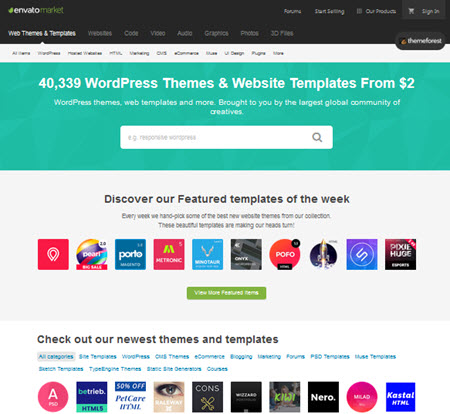 Buying the exclusive rights can be a fast way to get a custom theme for your website. The problem is that the theme will not be developed with your site in mind. The theme is unlikely to be a perfect match to what you want and it likely that you will need to make alterations to the theme before it fits your needs perfectly. In some cases it can be hard or next to impossible to make the changes you need. In these cases it might be easier for a developer to start from scratch rather then modify the existing theme. In other cases it can very easy to make the changes required.
Take your time to make sure that a theme meets your requirements or can easily be modified to what you need before you buy them. If you can find one then this can be a great solution. If it is not possible to easily adapt the theme for your website then you are better of developing your own from scratch. Otherwise you might end up spending more money than you would if you developed the theme from scratch.
You will usually have to USD 2000 or more for the exclusive right to a theme.
Buying a non exclusive theme
The majority of all themes that are for sale will not give you exclusive rights to the theme. Instead you get a license to use the theme. How many other website that use the theme depends on how popular it is. Some themes might only have sold a handful of licenses while other themes have sold thousands of licenses and can be found on thousands of websites. An example of this is the very popular WP theme Avada. Avada has sold almost 400 000 licenses and can be found on an equal amount of websites. Avada allows you to customize your site to your needs but you can still recognize an Avada site if you see one.
Paid non exclusive themes suffers from a lot of the same benefits and drawbacks as free themes (read more here). With the obvious difference that they are not free. Instead  you pay a small fee to use them. Usually less then USD 50.
A paid theme can look very professional but they will not look unique. There will be other websites out there with the same exact look. How many other sites depend on how popular the themes is. Paid themes are generally less popular then free themes and it is less common that you will see another site using the same theme. This reduces the chance that your visitors will know that you are not using a custom theme. People who spend a lot of time online are however likely to have seen the theme before and know that you are using a paid theme.
One problem to consider before you choose a paid non exclusive theme is that the developer has designed them to make money. They want to reach as big a customer group as possible and want to sell as many copies as possible. This means that they want to develop themes that will work well on any site. It is also very common that they include several different color schemes in each design. The end result is that most paid themes contains a lot of unnecessary code and one or several very bloated CSS files. If you buy a paid theme you have to expect to spend a considerable amount of time cleaning it up and optimizing it. This is true even for themes that claim to have a very high speed score.
Should you use a paid theme
A paid theme can be a good option if you find one that suits your needs. Some marketplaces allow you to get a refund if the theme does not suit your need. This allows you to try the theme and return it if you do not like it. If you return it your not allowed to use it anymore. If you use a marketplace that do not offer a money back policy then it is extra important that you review the theme carefully before you buy it.